Best Classified WordPress Themes 2023
Classified or listing websites are a way of offering services or advertise products, house or vehicle for online sale. Classified websites are becoming the most integral part of online marketing where you can easily find new or used goods near to your place.
It's too difficult for someone who wants to develop the new classified website according to modern design and functionality or local website because he requires for this purpose a website theme which is really suitable for classified ads business. We are searching a lot for this cause and did our best to collect all the latest and best Classified WordPress themes on a single place for your convenience. We feel it's really necessary; we should make a post for you so you can easily find word latest WordPress themes. Today we are introducing the best and top rated themes around the word for listing and classified ads for your assistant.
When choosing a classified WordPress theme, it's important to consider the features you need, the level of customization you require, and your budget.
There are many classified WordPress themes available on the market. Here are some of the top ones that you might want to consider:
Take a look at our Best Classified Ads WordPress Theme Collection and leave your review in comments if you find best theme which fit on your needs. Thanks
Classiera – Classified Ads WordPress Theme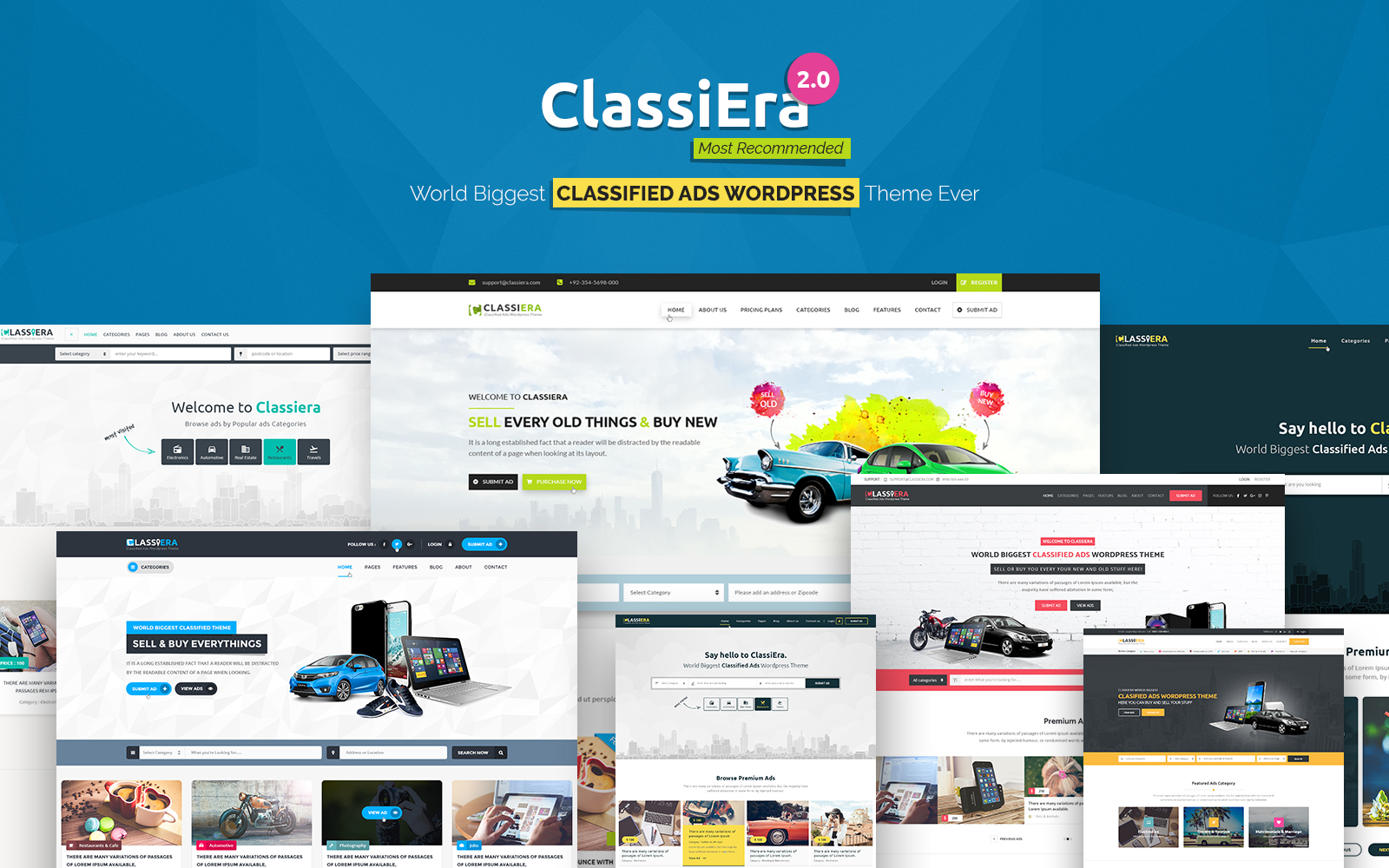 Classiera transforming Business Listing websites for the better
Classiera theme has been introduced to create listing websites using WordPress. This theme offers a perfect opportunity to the visitors to sign up and submit their service ads or items that they wish to sell. This theme is quite suitable for creating a directory for local businesses as well. Classiera helps you to get an edge over your competitors because it allows video listings as well.
This theme is highly responsive and comes with advanced search options, multiple ad types, and various payment gateways.
Why Classiera is the perfect theme for a business listing?
Simple and easy to use: Classiera offers you a simple and easy way to add a video listing. Thus this theme has made it easier to promote your service, business or product. The visitors will also be able to get access to the potential sellers with the help of Classiera theme.
Allows customized payment plans: This theme has been designed keeping into consideration the fact that most users may not be able to comprehend a difficult listing process. This is why Classiera offers simple front end submission forms. These forms allow the users to add their advertisements to the relevant website with ease. You can even charge a reasonable fee from the visitors for adding their advertisements to the website.
Classiera offers plenty of option for introducing the fee payment system. The settings allow you to create free of charge plans. You also get access to premium upgrades with the help of this theme. You can even create paid plans as per the options offered by this theme.
Offers plenty of diverse designs: Classiera offers a range of homepage layouts. You can choose the layouts that suit your requirements and use the specific layout for your website. You can change the layout with just a few clicks. If you plan to incorporate news in your website in the near future then you can make use of the blog templates as well offered by this theme.
Allows Integrating Google Maps to the listing: When you intend to create a classified website then it will be a great idea to incorporate interactive Google Maps as well because this will give the visitor an idea from which location an item needs to be collected. The Google Maps will also make it easier for the visitor to locate your business.
Classiera gives a very professional perception. It gives a stylish and modern touch to your website. This definitely counts a lot when you need to attract potential visitors to your website. When your website will be well-designed even the visitors will get the feel that effort has been invested in designing the website.
Free demo Installation and theme installation
Classiera also offers a demo so that you can get an idea how this theme works and whether it suits your requirements or not.
Dedicated and Free Support
You will get exclusive free support when you opt for Classiera and that is an additional incentive.
Video Tutorial and Documentation
You will get detailed documentation about this theme along with a video tutorial so that you can have a detailed insight about Classiera.
You will not find this theme to be an expensive option and it will just cost you about $49 to get hold of this theme so do not miss out on the opportunity. Get Classiera today and transform your business listing website for the better. You will not have any regrets at all if you decide to opt for this theme.
Classify- Classified Ads WordPress Theme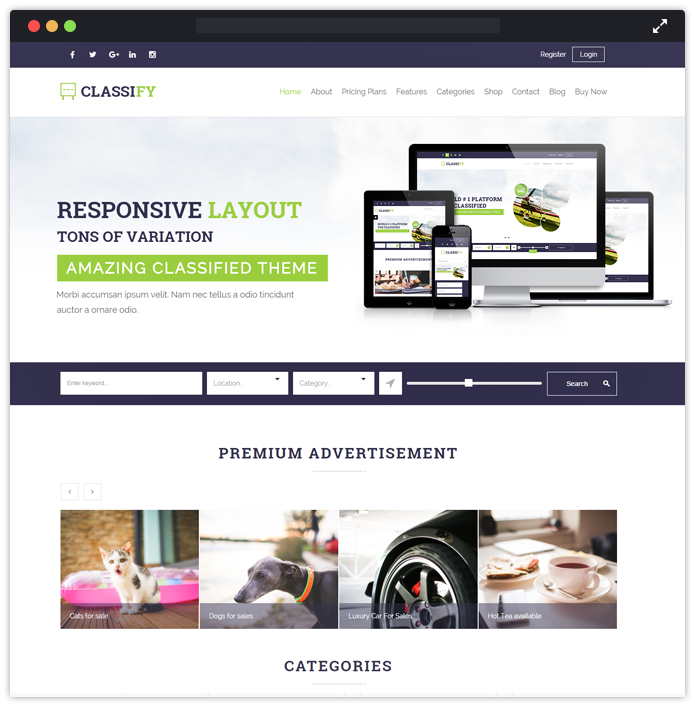 It a first WP classified themes that has modern WordPress themes. It is exclusively designed keeping in mind the requirements of the customers. It is 4.1+. The 2.3 Bootstrap is fast and helps you in development and customization process. The layout has an amazing feature of adjusting to the device. It will work without creating any sort of problem and will allow you to work whether it is your laptop, desktop or tablet.
This is one of the most popular classified themes for WordPress. It comes with a wide range of features and customization options, and it is easy to use even for beginners.
Key features of Classify
It is designed for high resolution displays and helps the viewers in seeing a pleasant view of your site. It has over 650 Google fonts and infinite colors. The attention grabbing features of this theme make people visit the site with enthusiasm and interest. The Redux Framework makes customization very easy and gives you complete control over it. You can set everything according to your choice. This will help you in building a site that is according to your choice. The Layer Slider helps you in giving compatible sliders. It is user friendly and with unlimited slides and animations the users would find no other site worth visiting.
The features of Font End Listing Submission allow you to make Membership Plans. With the aid of Google maps and Geo location the users can find the location. It gives a vivid idea to the user. The use of HTML5 and CSS3 coding are the latest additions and with these the users would have a more clear view. The theme also supports the WooCommerce, bbPress, WPML and PayPal. With the Bootstrap you can have the front end development faster. The bbPress is forum software that has a list given by developers of the Word Press. The theme is designed in a way that it can be operated easily buy the users. It is made for people who have the expertise and skills and can use in different devices. It is suitable for SEO. This also allows you to turn the option of ON/OFF so that you control the advertisements.
Exclusive Paypal integration
The PayPal takes away the burden of the procedure of the payment and handles everything. The person whether he is a novice or an expert, it helps you to grow business. You can also find features like video ad support, custom short codes, membership plans, social media login, Google Fonts integration, etc.
Classify advertisement section
This is a place where ad banners can be seen. With the help of this theme you can build Home Page and stylish slide bars. It also helps you to post the ad quickly. With this you can also create categories and subcategories. It also has the feature of list and grid style layouts so that you can see your listings.
The theme is quite easy to use and with the passage of time the additions are being made. The features can help you in building a stylish website. So grab it before it is too late and attract large number of customers.
FlatAds Classified WordPress Theme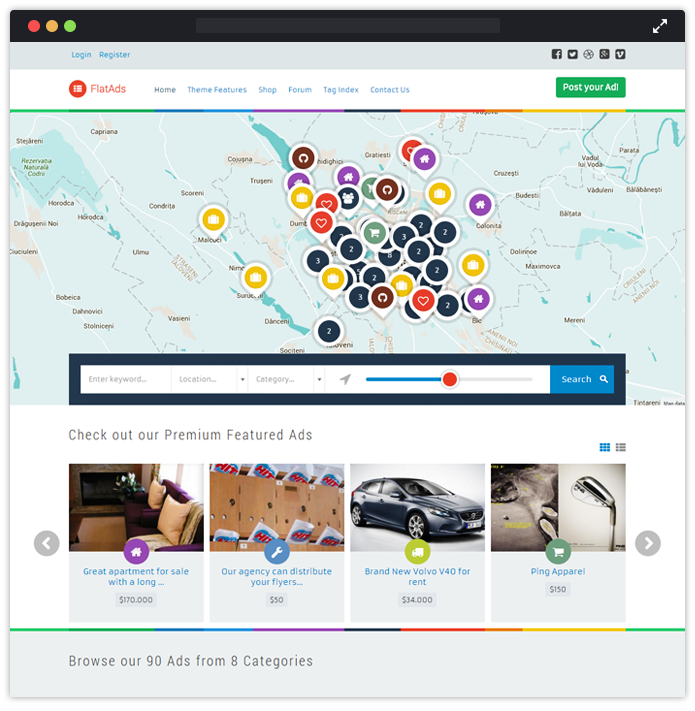 The classified listings Word Press theme named FlatAds is not limited to a single purpose. The users can find that it is multipurpose and is powered by Redux Framework. It is the best place for presenting the classified ads and that can attracts a large number of audiences. The theme is very responsive and adjustable to the devices. The retina ready theme allows it to adapt to the modern mobile devices. It is built using the HTML5 and CSS3 so that your site is equipped with the modern trends.
Features of FlatAds
FlatAds has many features and one of the main features of this theme is its integration of the Google Maps. The users can easily search the listings and can have access to the location. In this way they can find a resolution to the problem and reach that point where they want to be. The theme also integrates with the Woo Commerce plugin that can easily handle the checkout and shopping cart features. With the help of the PayPal account you can manage the payments. The PayPal can take the burden off of your shoulders and can handle the transaction. You can just sit back and relax and increase the profit.
The FlatAds has a modern and stylish design that further helps the users in attracting more customers. The best use of this theme is building the directory or classified listings. The FlatAds can thoroughly help you in building these. It has an endless rage of customization and with this you can find this theme to be fulfilling your requirements.
You can also find it useful in making money. The FlatAds is compatible with Woo Commerce and with this you can build models, brands, years and more. This will allow you to increase your range and you can make money. The people can find the item easily using the search bar. They just need to name the item and it will be there in front of them.
It has also the feature of translation so that the users do not face any sort of problem. It has Vector Icons and Google Fonts. It is also touch/swipe compatible.
Due to these features you can see that the demand of this theme is increasing with each passing day. It was a featured item on ThemeForest. With the support of the Woo Commerce, bbPress, Mailchimp the theme has achieved a superior level that can help you in building a flawless classified site. It allows you to choose any design from multitude choices and you can design a site according to your taste. The edition of this theme comes in categories and allow you to divide the template and in subcategories. The WPML theme is user friendly and it can be translated in any other supported language. So you should not miss this and grab it. Design your own site and welcome people and increase your income with the support of this amazing theme.
Classifier Classified WordPress Theme
In order to seek help in building a professional classified website, you can always look up to Classifier. It is a much modernized theme that fulfils your requirements. It uses the modern designing techniques and responsive layout that help you in building classified websites.
The features of this theme might amaze as it is not limited to making classified ads with WordPress. Apart from this, you can use it to make other kinds of sites. The theme has many amazing features that can help you in achieving this. With these amazing features you can include a real estate listing portal, community website, a personal ads site and much more. This is just an overview of an amazing set of features.
You can also make it a source of income by charging people for visiting the site. This however depends on your choice and the fascination that people might have in visiting your site. You can make plans and membership packages so that you can make profits out of it. All this can be done by using Classifier and its control panel.
The registered users can enjoy the privilege of having access to their own dashboard. They can control their profiles by having access to the front end of the site. This will help them to stay away from the admin pages of WordPress which otherwise would be a difficult task.
The Buddy Press is an amiable feature of this site that allows you to add the social media features to your site. It has all the options that you might find in any other social media website like activity streams, friendship connections, messaging etc. This will welcome the people and they would visit the website again and again.
The best looking WordPress is ColorLabs & Company that used the features of the Classfier stands as one of the most entertaining sites. It is the best looking Classifier theme that you can find on the internet.
The features of the classifier allow you to make interesting and best looking sites so that you can welcome people. The templates are ideal and can fit according to your needs. It can create mesmerizing sites that can have a modern and stylish outlook. The outlook of any site makes it presentable and this theme will help you in making that. It will capture the attention of many people.
The BuddyPress plugin can be used to build a community that would have social media features. The amiable community will help you build connections. It also has the facility of Google Maps that can easily guide the customers and with proper navigation they can reach the products and services. Classifier also has the option of keeping the multiple accessories in a separate section for advertisement.
With all this you can easily become a bread earner. The users can easily submit their ads and this would add more to your profit. You can also make changes and modify and delete whatever you need. It is connected with PayPal. You can also monitor your website and keep an eye on the activities. So you should not miss this amazing theme.
Visit Demo